Close
Back to Cactus
– MEET THE AUTHOR – ED WARD – SATURDAY, 2/11 @ 1:00PM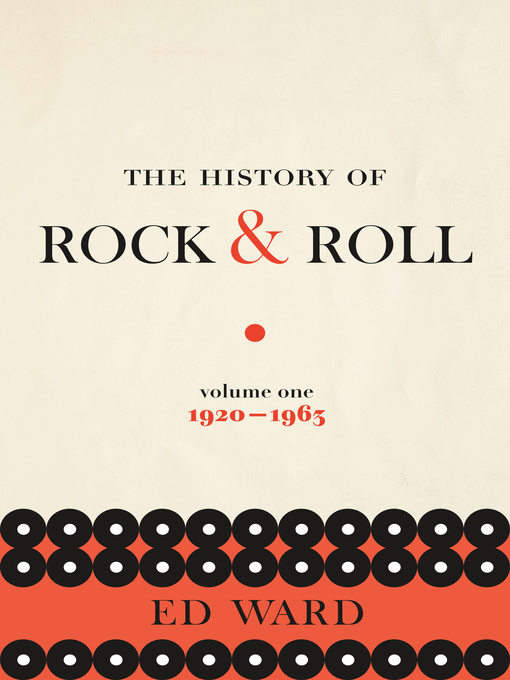 "A dean of rock journalism delivers the first volume of a magnum opus on a subject that never ceases to fascinate… turning up plenty of surprises and fresh insights… A spry study that should inspire listening with new, and newly informed, ears to old tunes."
—Kirkus Reviews, Starred Review
"[The History of Rock & Roll] provides an excellent introduction to early rock's cast of characters and the music that rocked the world… Ward's delightful book is chock-full of everything there is to know about the history of rock."
—Publishers Weekly
Music has shaped our culture, history, and how we relate to the world and no genre has done more than rock & roll. From Big Joe Turner to Curtis Mayfield, Elvis to the Beatles, Chuck Berry to Buddy Holly, and all of the icons and forgotten one-hit-wonders in between, rock & roll has become so ubiquitous that the term "Rock Star" has entered our everyday vocabularies. From backwoods juke joints to the arena stages and massively popular rock festivals of today, rock & roll has gone through its fair share of highs and lows. Once thought to be a passing fad, the genre has changed the course of history. In THE HISTORY OF ROCK & ROLL, VOLUME I: 1920-1963 (Flatiron Books; on sale November 15, 2016; $35.00) Ed Ward chronicles the birth and evolution of rock & roll from the pop, blues, and country scenes of the 1920s to the beginning of the British Invasion of the 1960s as only a true lover of rock & roll can: with rhythm and soul.
Following the end of World War I, American culture began a transformation as radios and other forms of mass media became much more prevalent and accessible. Our country's identity, culture, and outlook began to change as people became more mobile, mixing their cultures, histories, and backgrounds. Black and white musicians came into contact with each other's music, rural people moved to urban settings, and musicians started mixing their music to create a new and unique sound that reflected these changes, resulting in a musical movement that could have happened nowhere but America. And over the next few decades rock & roll would grow from a teenage fad to the most popular musical genre in the world.
In THE HISTORY OF ROCK & ROLL, Ed Ward digs deep to discover the roots of this intoxicating subculture. Drawing on his more than 30 years as the rock & roll historian for NPR's Fresh Air, countless hours researching origins, loose connections, poring over liner notes, discographies, studio logs, and listening to the music and musicians, Ward provides the most comprehensive and accessible look at the movement that led teenagers to get all shook up over Elvis, caused nightclub visitors to twist and shout (first to the Top Notes, then the Isley Brothers, and finally the Beatles), and take to the beaches during the surf music craze.
Ed Ward is the rock & roll historian on NPR's Fresh Air, where he is heard by 14 million listeners. His writing has appeared in Rolling Stone, The New York Times, The Wall Street Journal, and countless music magazines. He is also a coauthor of Rock of Ages: The Rolling Stone History of Rock & Roll. He lives in Austin, TX.